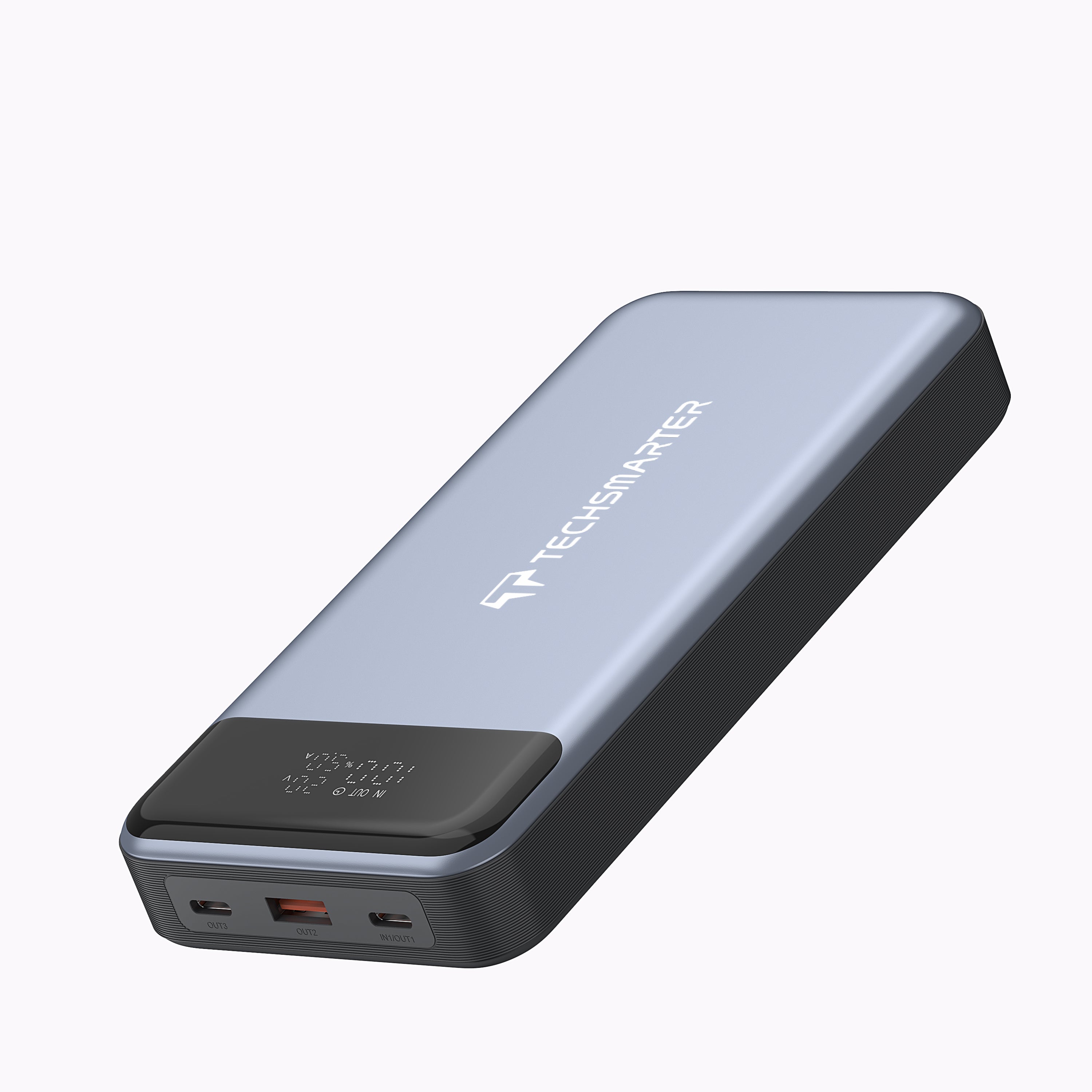 TSBar 30000 130W PPS
Model : TS-15451
Regular price
$109.99 USD
Regular price
Sale price
$109.99 USD
Unit price
per
Sale
Sold out
Share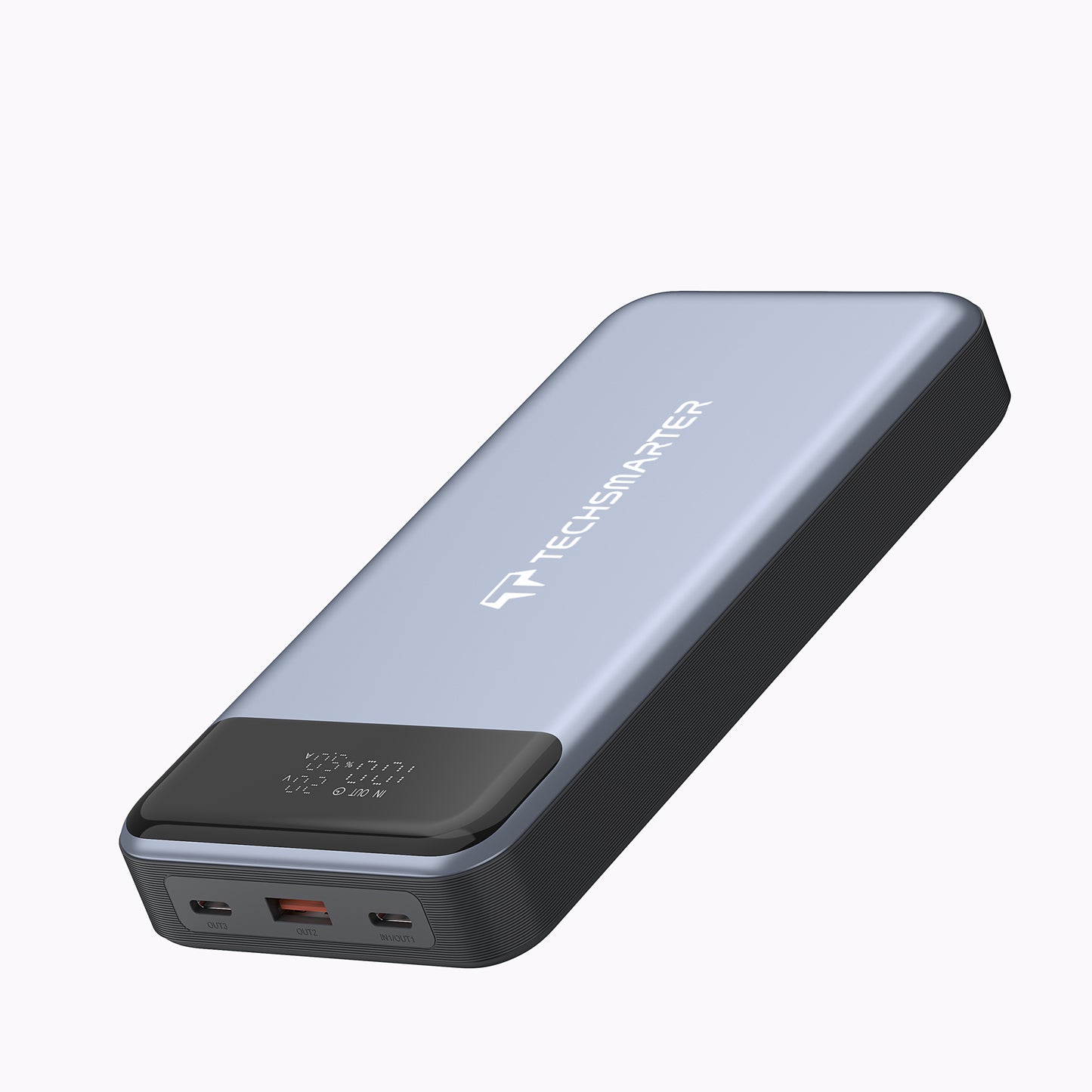 Description
Introducing the TSBar 30000 130W PPS Portable Charger, the ultimate power companion for professionals and travelers. With its cutting-edge features, this charger ensures fast and efficient charging for all your devices, making it a must-have for anyone on the go.
Equipped with Samsung Super-Fast Charging technology, the TSBar 30000 can fully charge the latest Samsung Galaxy devices in under one hour, saving you valuable time. Its three USB ports provide versatile charging options: a 100W USB-C port, a 30W USB-C port, and a 22.5W USB-A port. With a maximum output of 130W, you can charge your laptop and another USB-C device simultaneously without compromising power.
The generous 30000mAh capacity of this charger allows you to charge most smartphones up to 13 times, an iPad up to 5 times, or a MacBook up to 3 times, ensuring you stay connected throughout the day. The digital LCD readout display keeps you informed of the exact remaining power, eliminating any guesswork.
Recharging the TSBar 30000 is a breeze, taking approximately 3 hours when using a 100W USB-C charger (not included), so you can quickly replenish its power for your next adventure.
Safety is a top priority with advanced protection systems in place to prevent overcharging and overheating, providing you with peace of mind while charging your valuable devices.
Included in the box is a 3ft 5A e-marker USB-C to USB-C cable, specifically designed for Samsung Super-Fast Charging and laptop charging, ensuring optimal performance right out of the box.
The TSBar 30000 130W PPS Portable Charger is your go-to charging solution, offering exceptional speed, versatility, and reliability for all your devices. Stay powered up wherever you are with the TSBar 30000.
Compatibility:
25W/45W Samsung Super Fast Charging (100W USB-C Port): One hour fast charging is only compatible with Samsung Galaxy S10 5G, S20 Ultra, S20 FE, S20 FE 5G, S21, S21 5G, S21 Plus 5G, S21 FE, S21 FE 5G, S22, S22 Plus 5G, S22 Ultra, Note 10, Note 10 Plus & Note 20, Note 20 Ultra.
iPhone Fast Charging: Compatible with new iPhones 12, 13, 14 models only
18W Fast Charging is compatible with all Androids and iPhones
The TSBar 30000mAh 130W PPS power bank is universally compatible with all USB/USB-C smartphone and tablets such as iPhone 14, 13, 12, 11, XS, X, XR, SE, 8, 7, 6, iPad Air/Pro, Samsung S22, S21, S20, S10, S9, S8, S7, S6, Note 20, 10, 9, 8, Samsung Galaxy A series, M series & F Series, Tab, Androids, LG, Motorola, Sony, Pixel, Google, HTC, Small USB electronics, Airpods, Bluetooth headphones, portable gaming systems, Swicth, Steam Deck, GPS, Cameras and more.
USB-C PD Laptops: Compatible with Apple MacBook Air/Pro, ASUS Chromebook Flip, Zenbook 3, Flip S, Transformer 3 Pro, Dell Chromebook, XPS, Google Chromebook Pixel, Pixelbook, Huawei MateBook X Pro, HP Chromebook (2017-2018), Elite X2 1012 G1, Specter 13 (2017-2018) & Specter Pro 13 & Specter X2, Envy 13, Lenovo ThinkPad X1, ThinkPad Yoga, ThinkPad (most models from 2017), Microsoft Surface Book 2 13.5 "& 15", Surface go, Surface Pro 2/3/4/5/6.
Shipping
All orders placed by 1pm on Monday through Friday will ship same day. Orders placed on Saturday, Sunday or during national holidays will ship the next business day.
Shipping Fee
Standard shipping within the US is free for all orders.
30 Day Money-Back Guarantee for Any Reason
You may return your product for a full refund for any reason within 30 days of purchase. 
Warranty
All our products are backed by a one-year warranty.

Within the first 12 months from the date of purchase, we handle all quality-related issues by providing a replacement.

Upon receiving your warranty request, we will email you a mailing label to return the defective unit. A replacement will be dispatched once we receive the defective unit.

Please don't hesitate to contact us at Support@techsmarterusa.com to initiate the warranty process or if you have any questions about this policy.