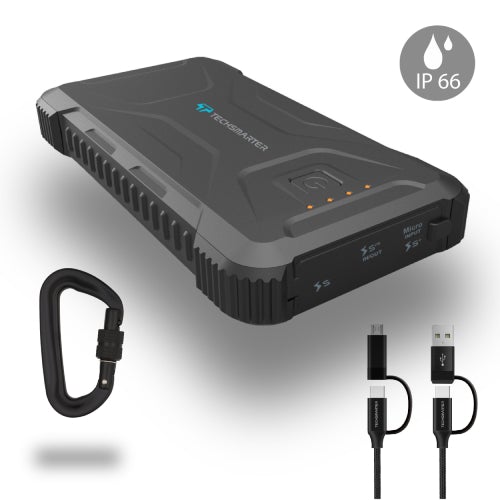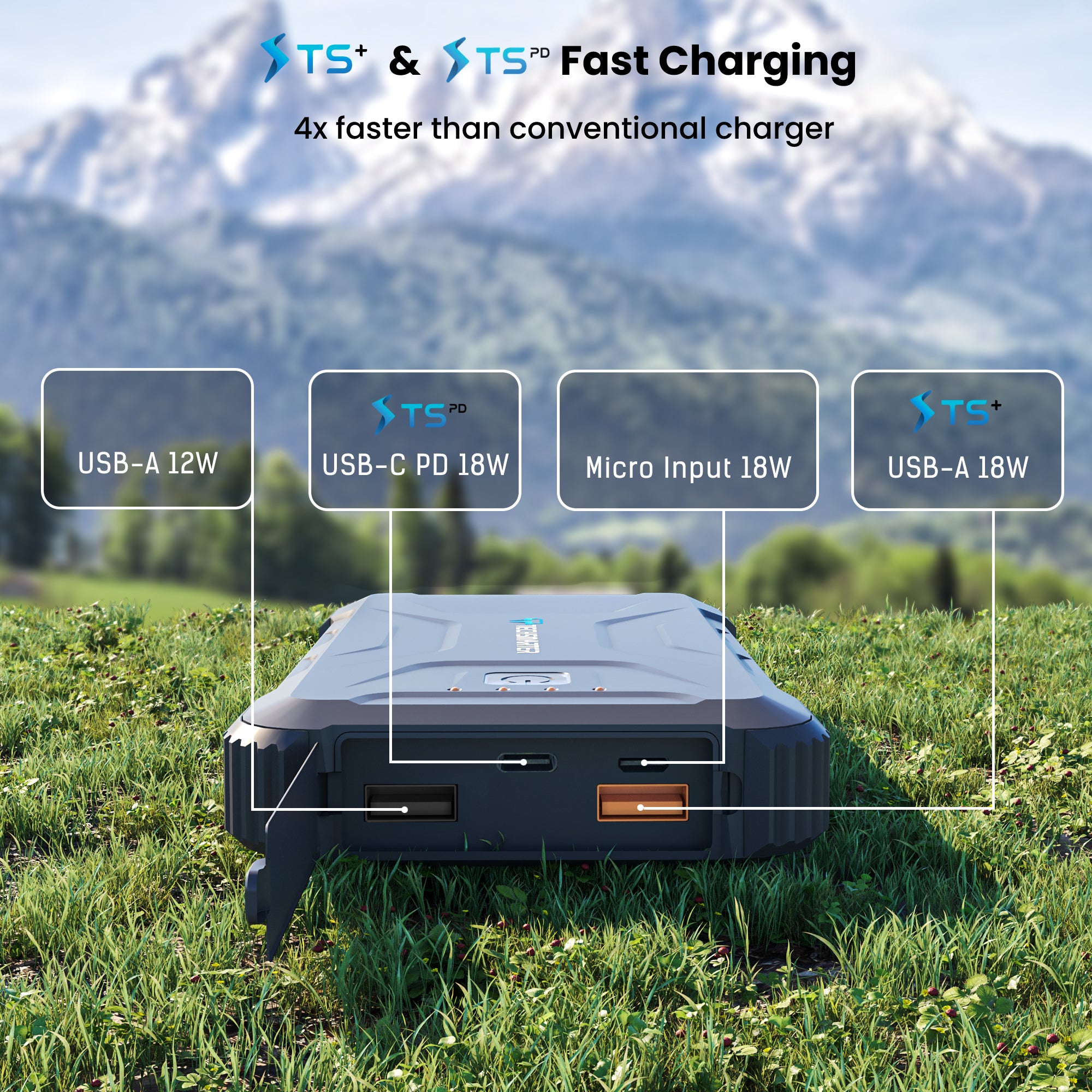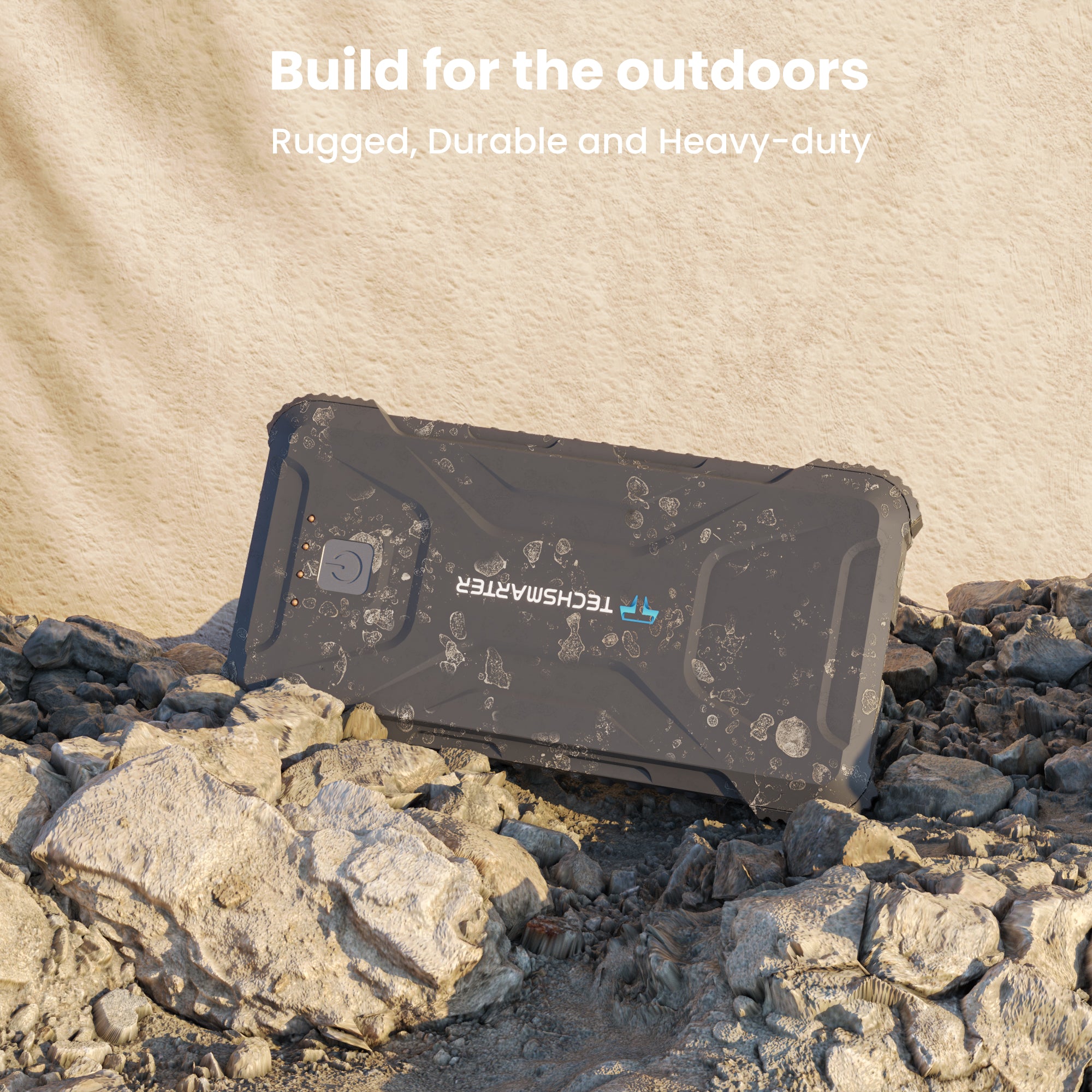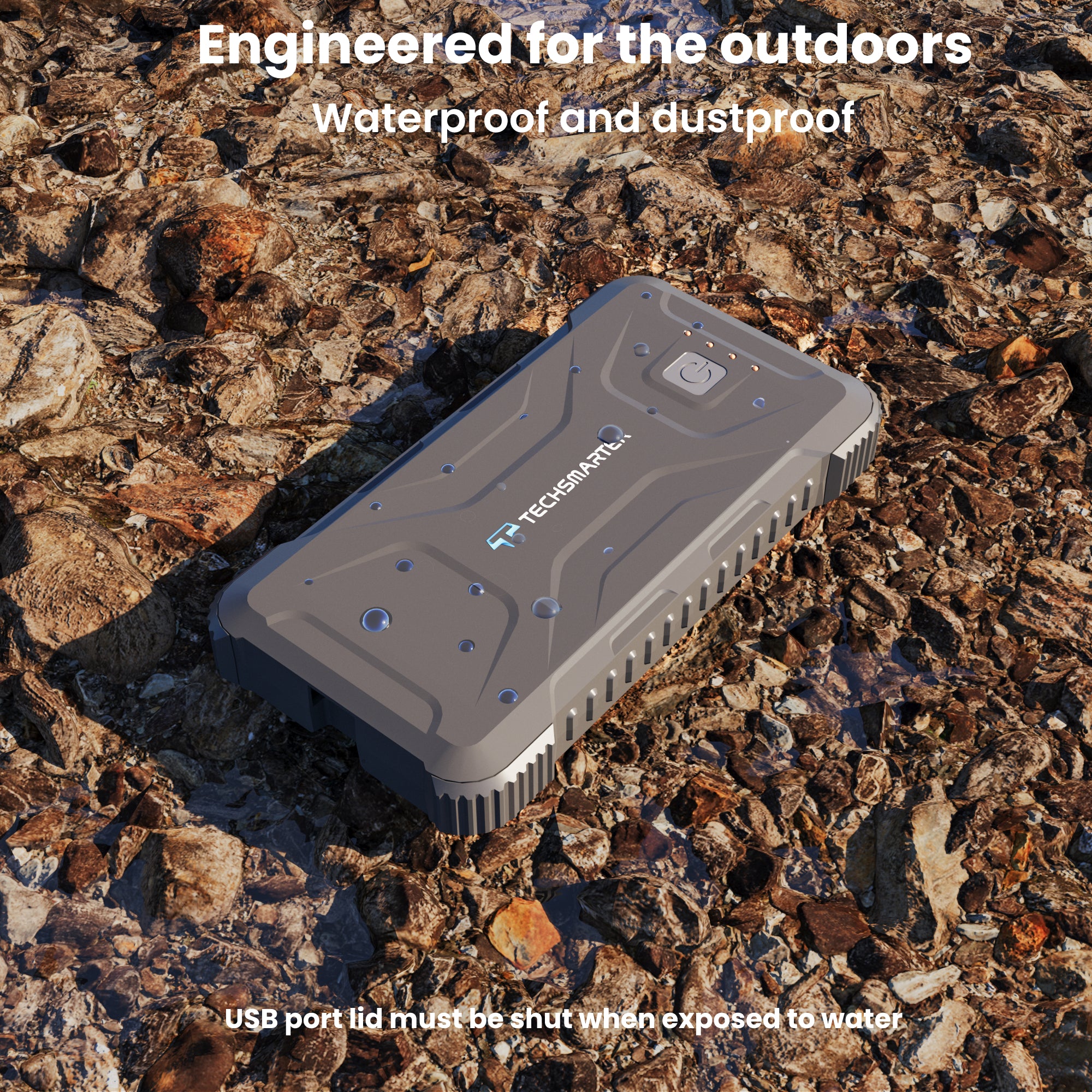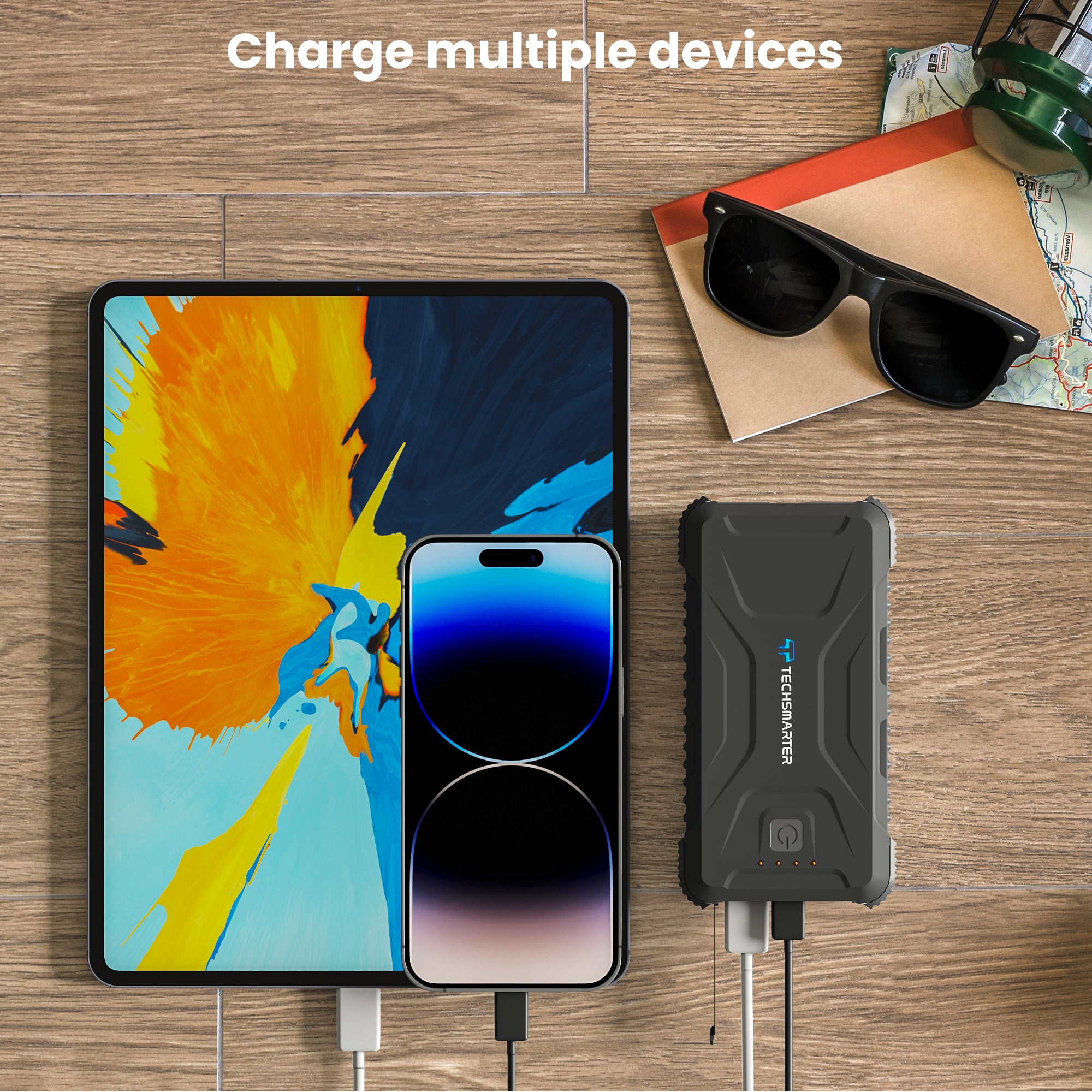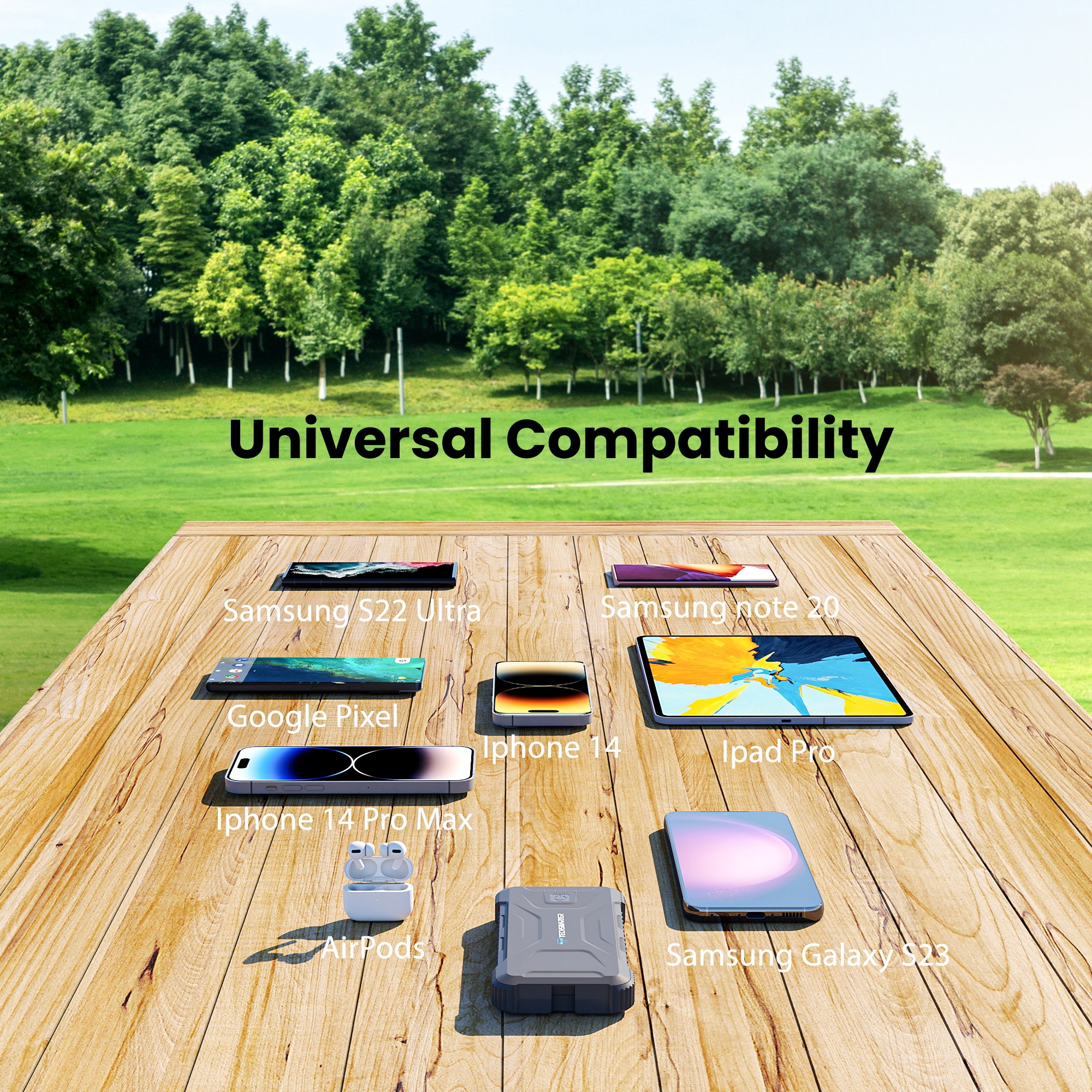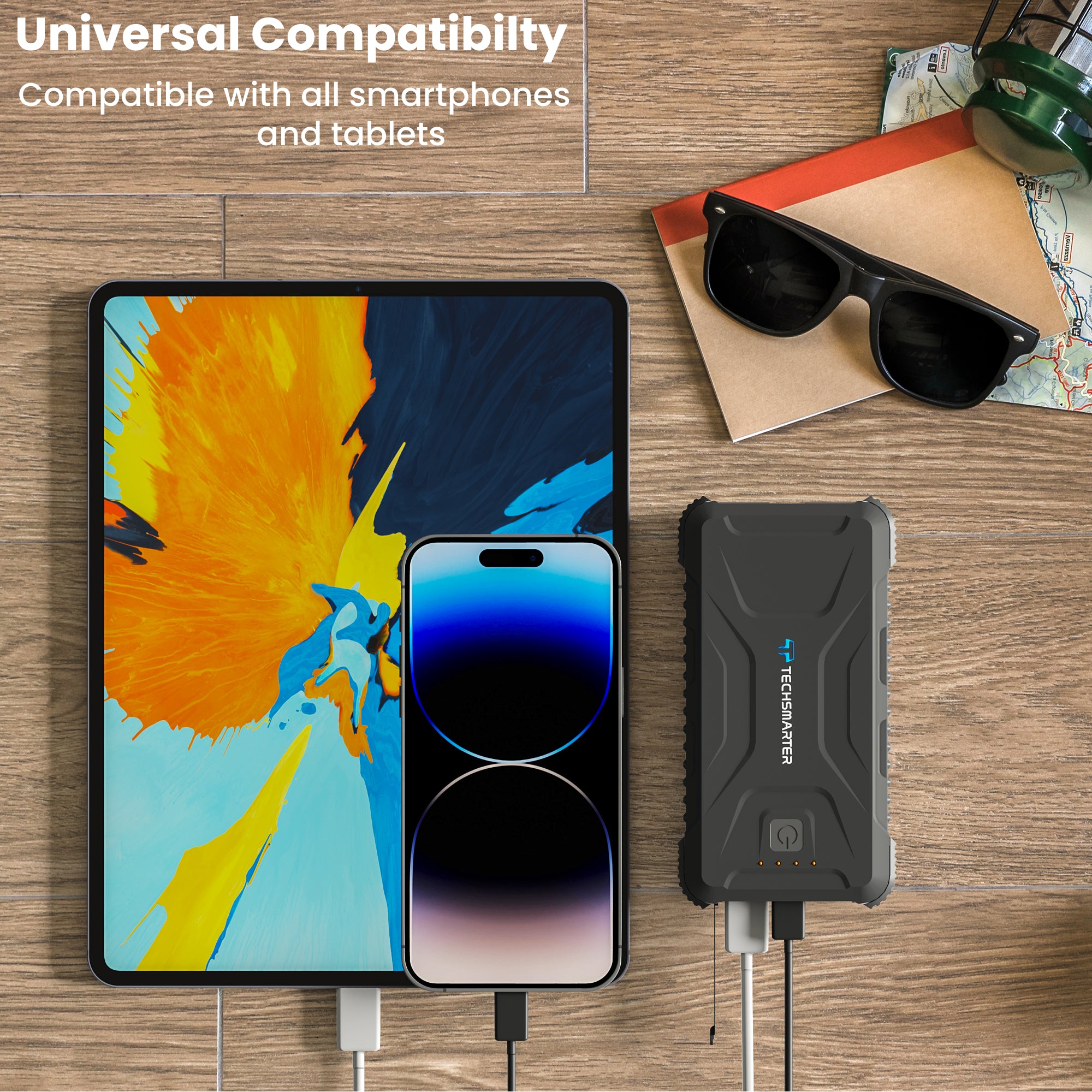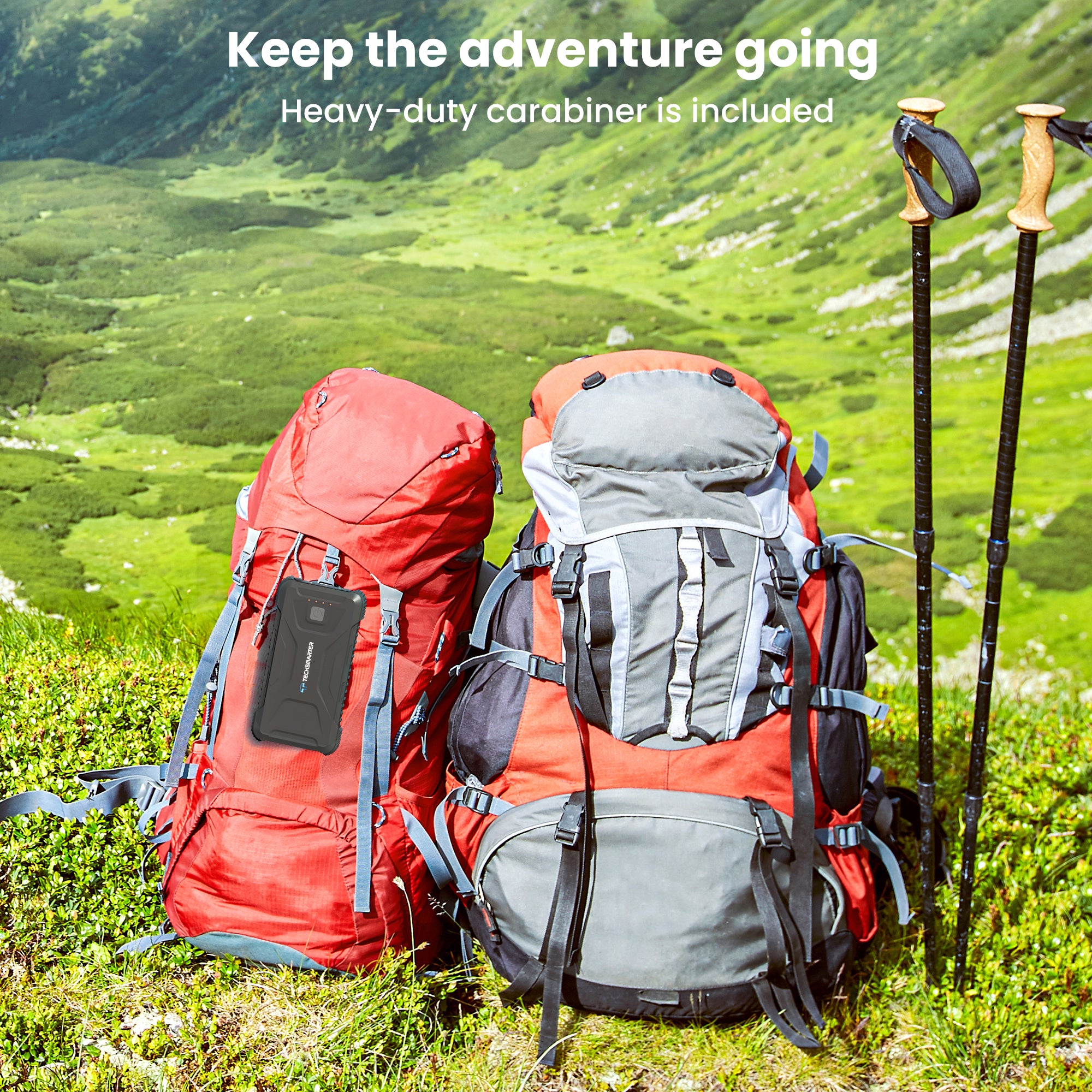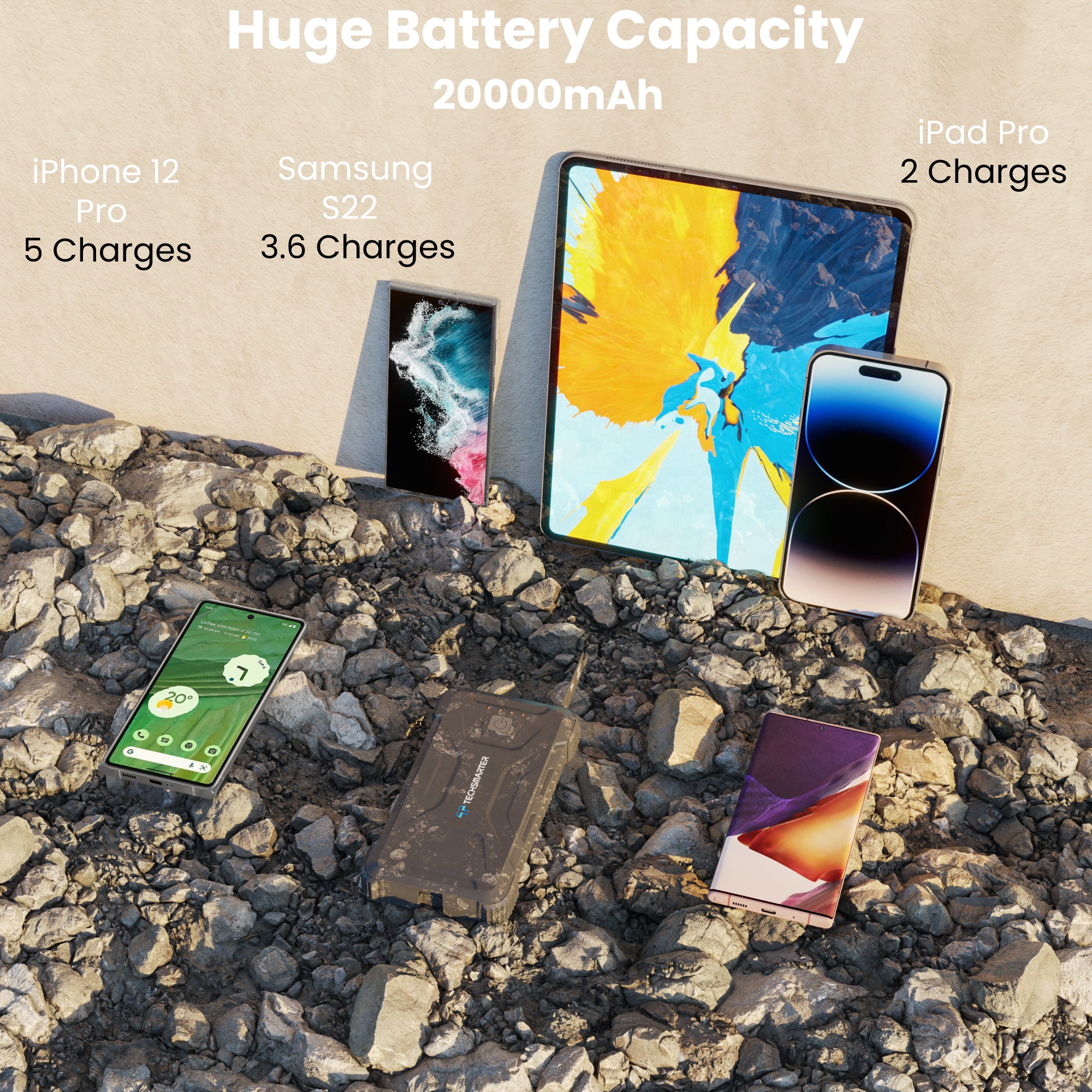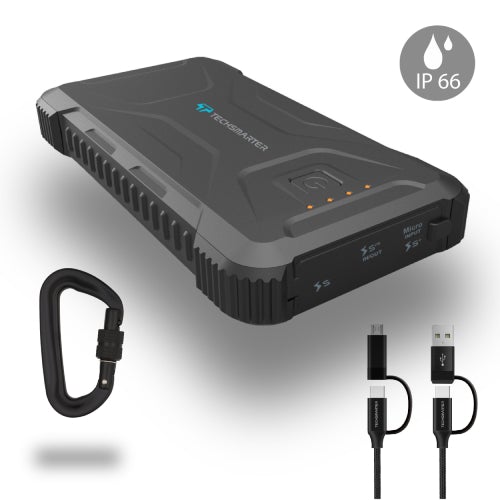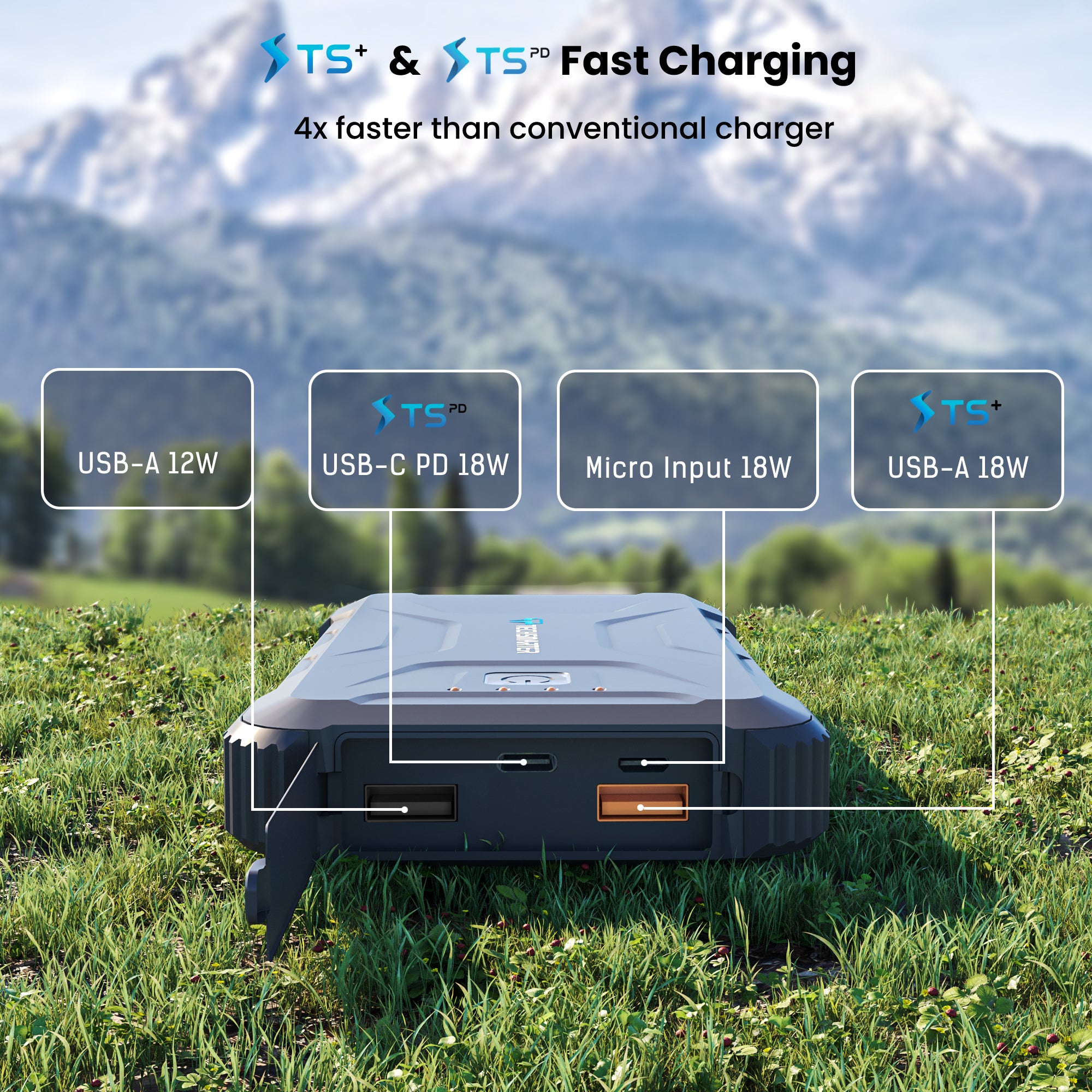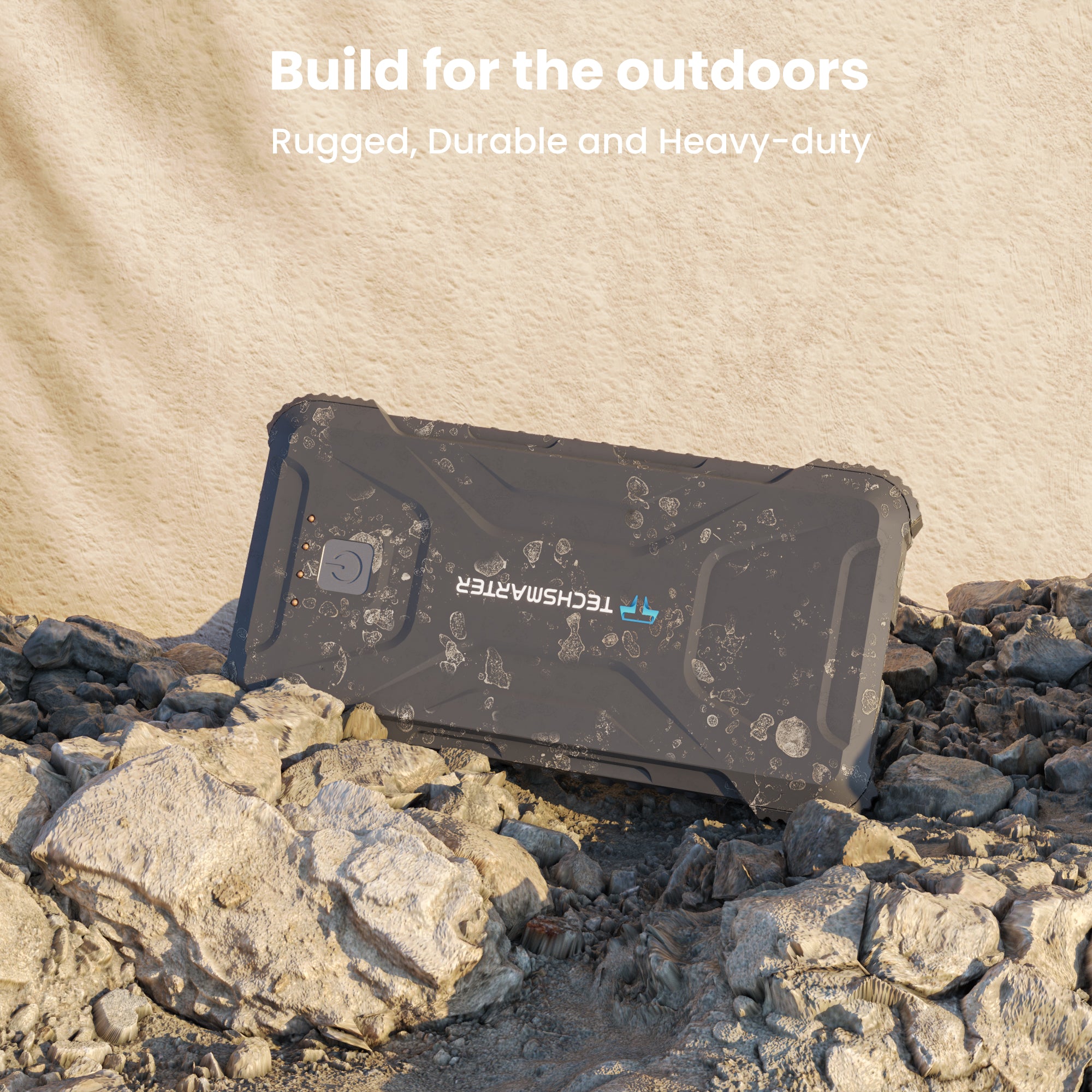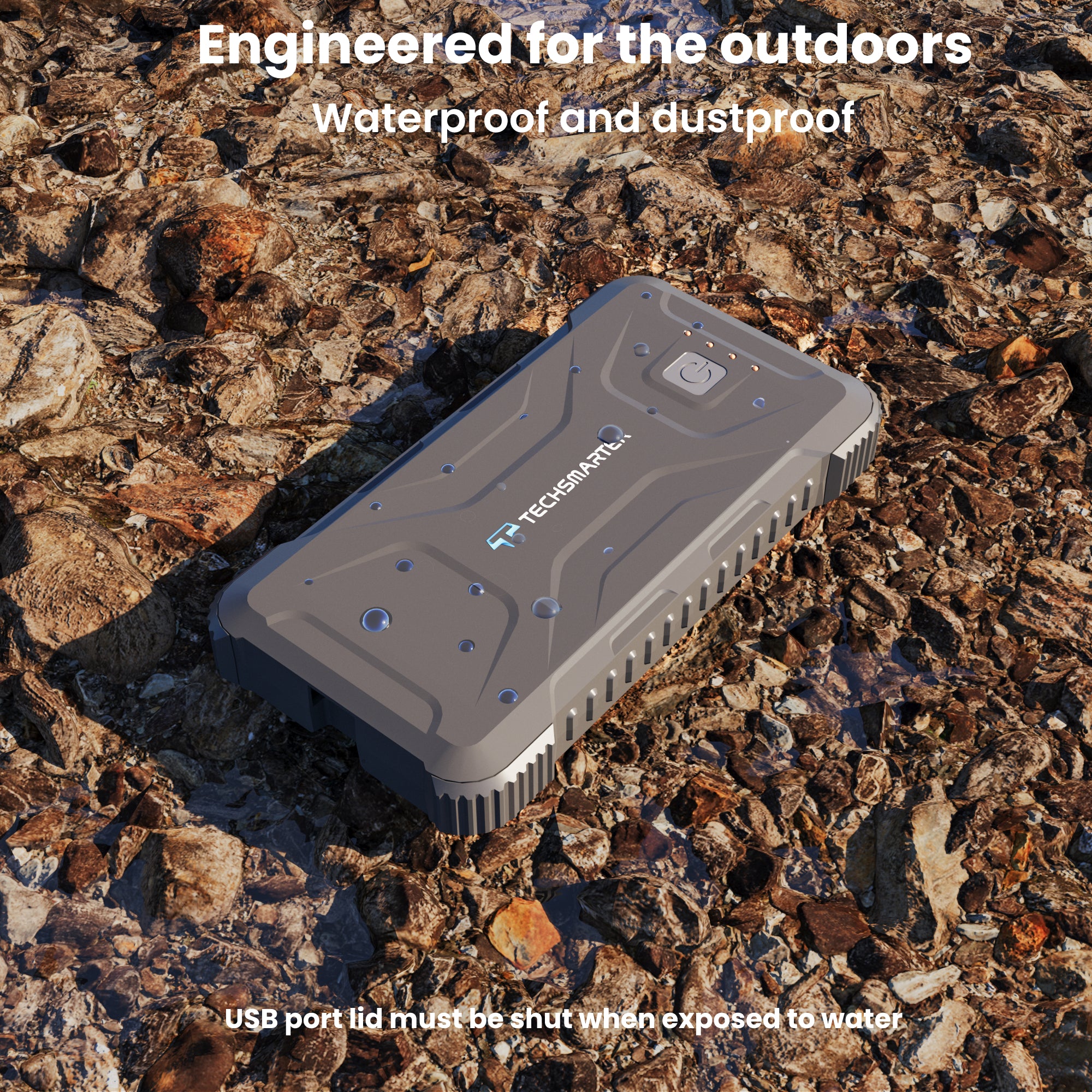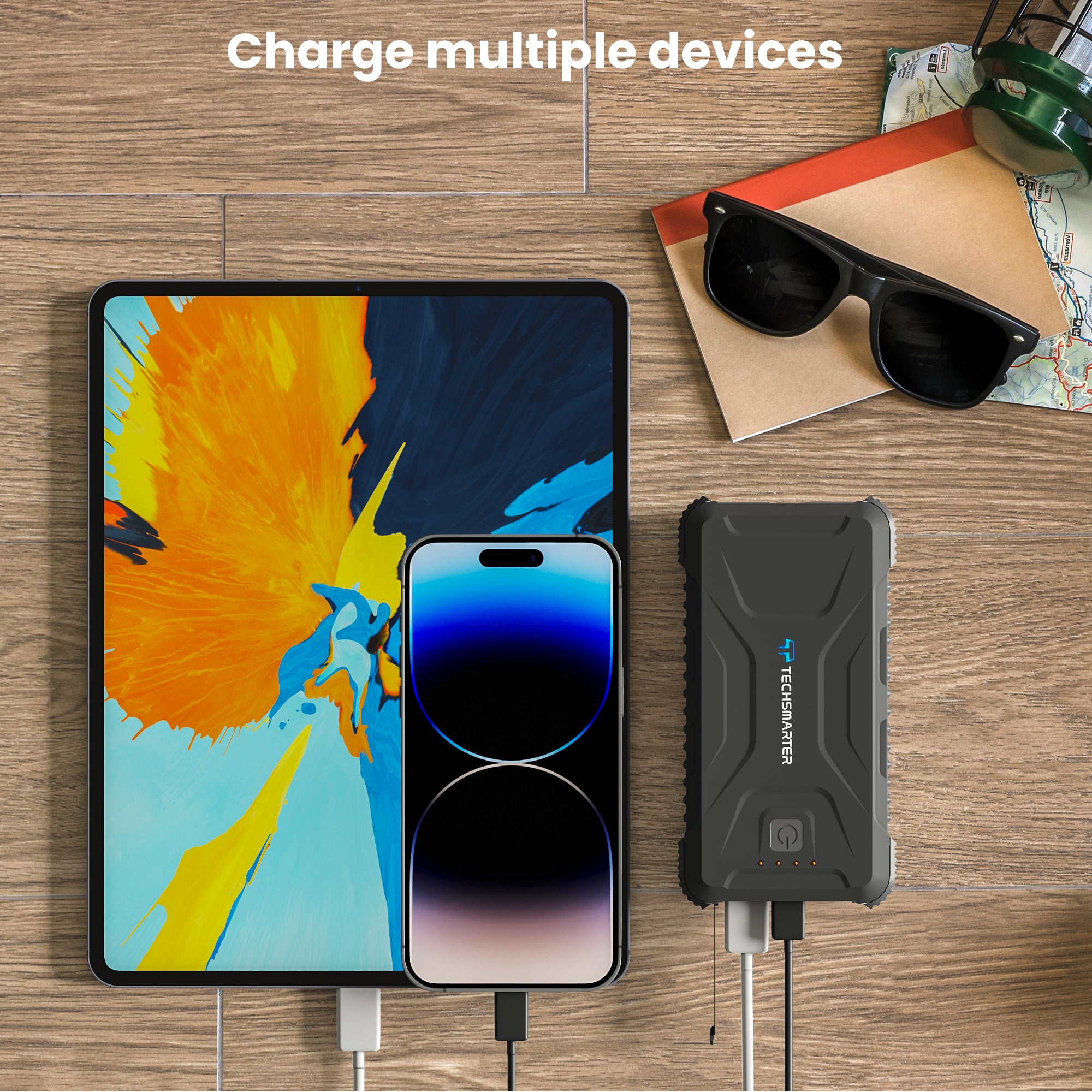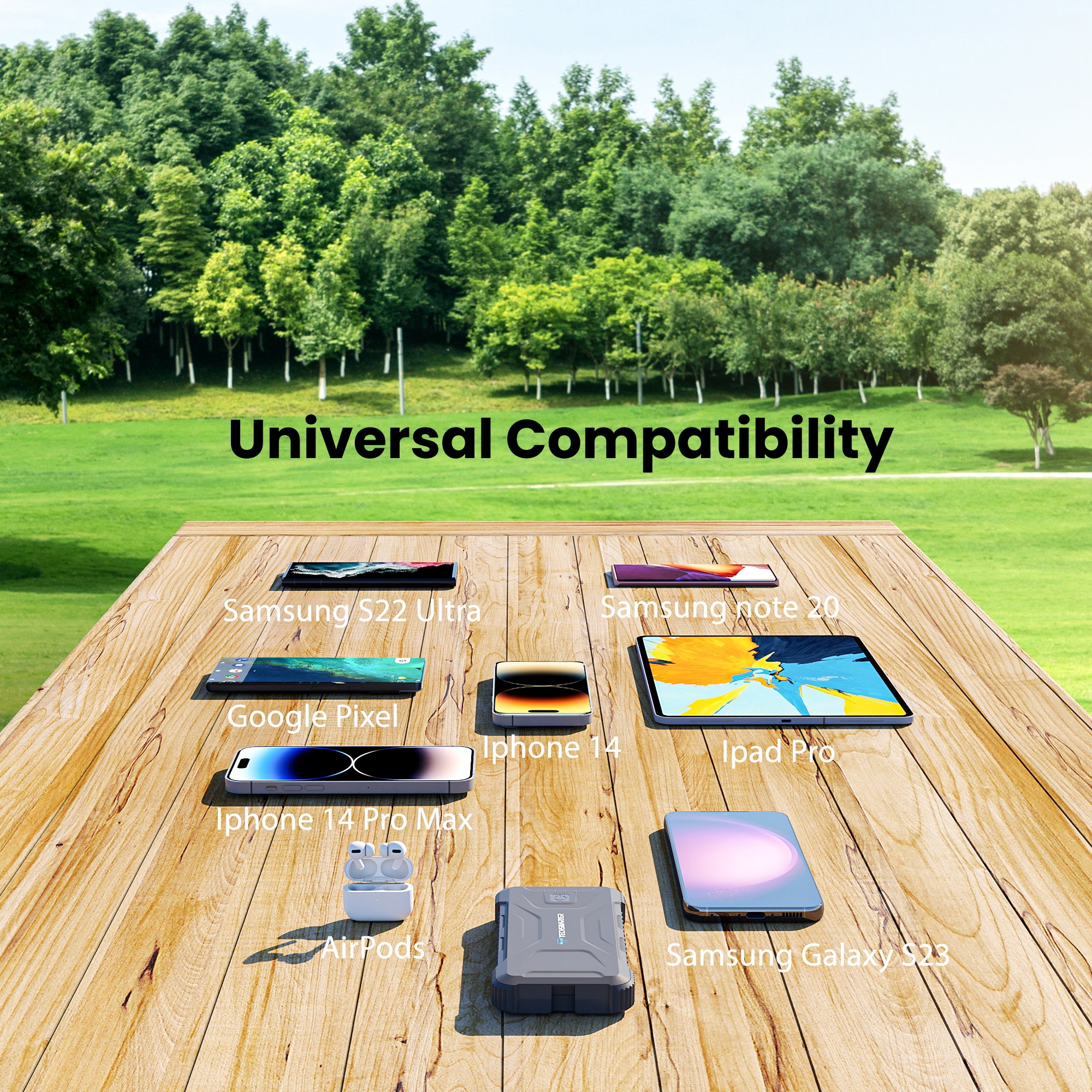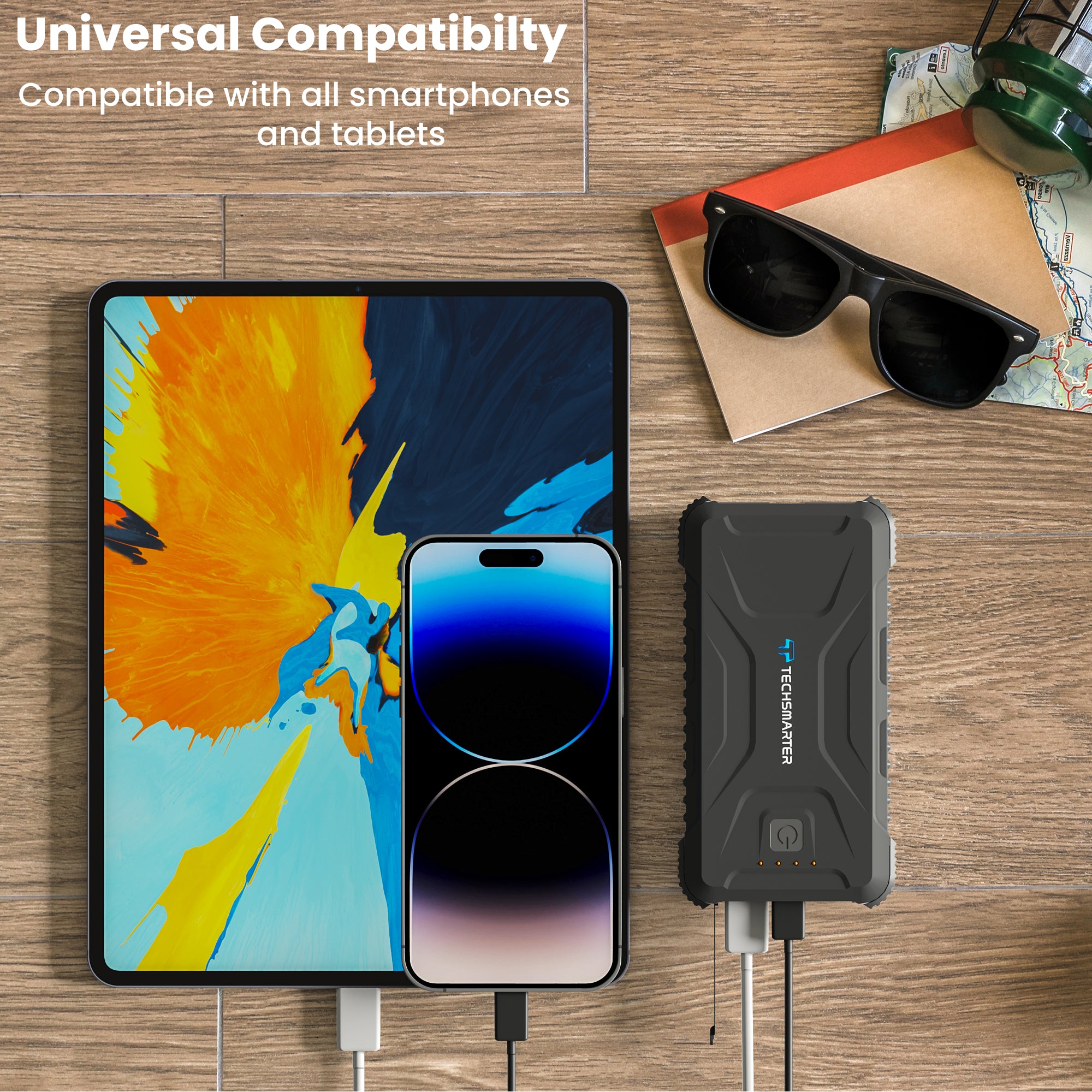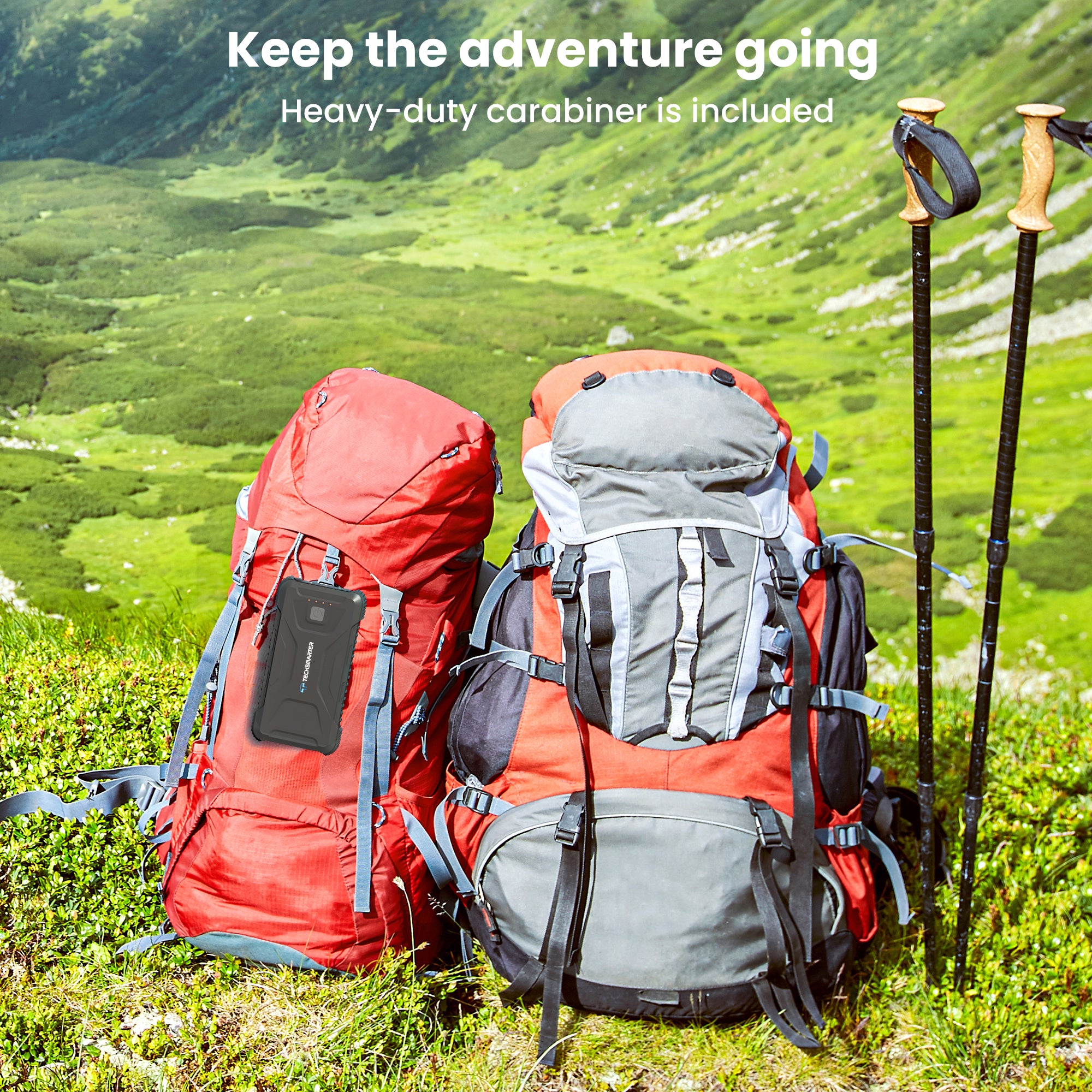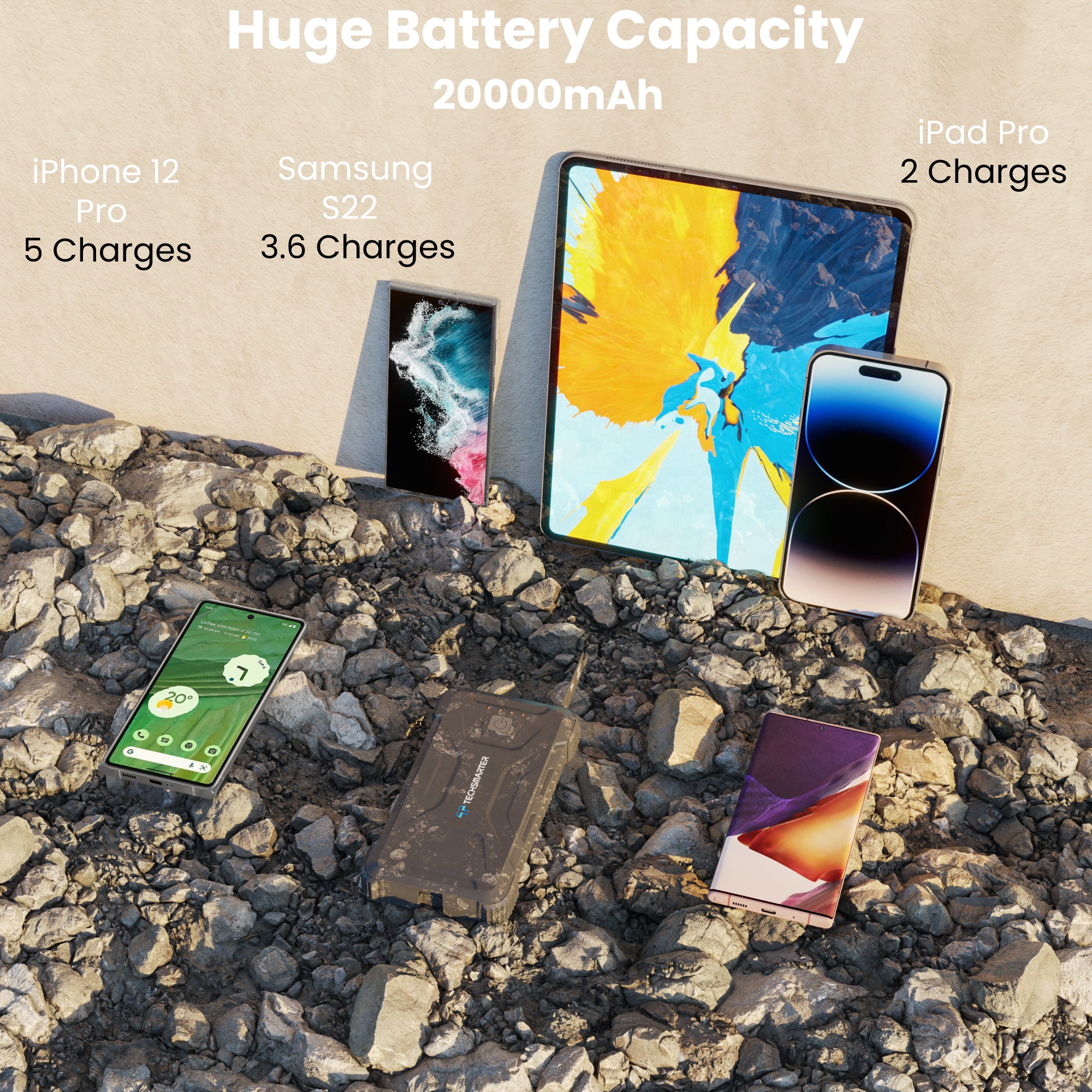 TSBar Rugged 20000
Model : TS-89281
Regular price
Sale price
$59.99 USD
Unit price
per
Sale
Sold out
Share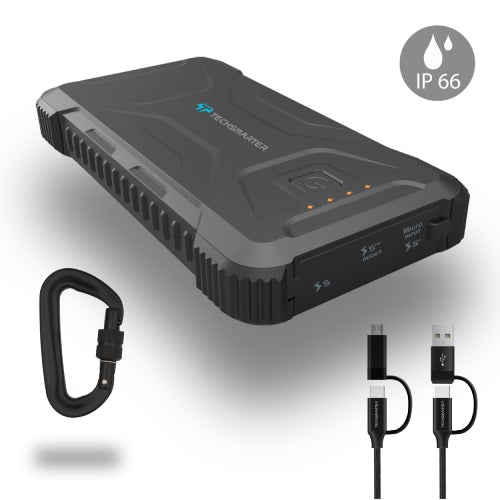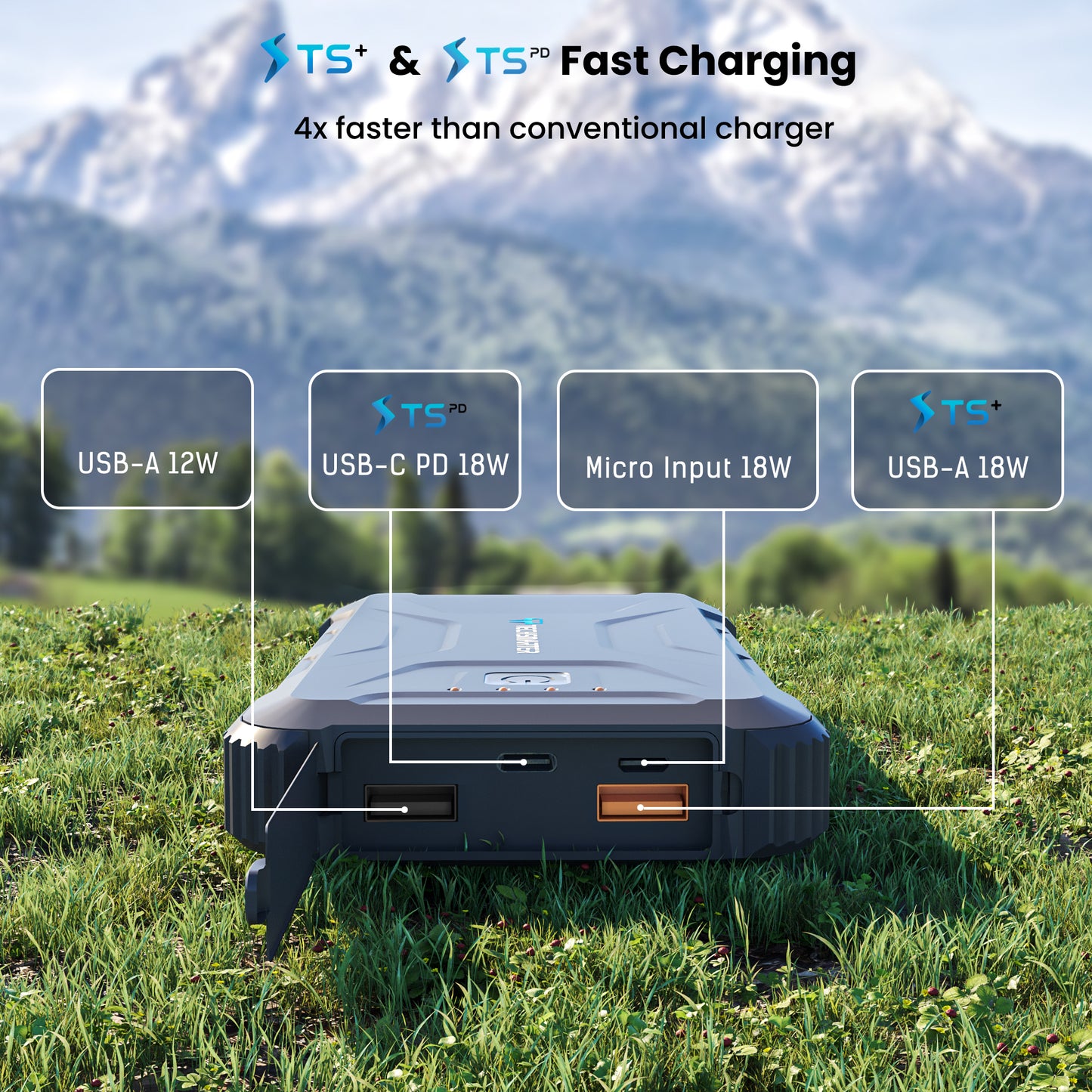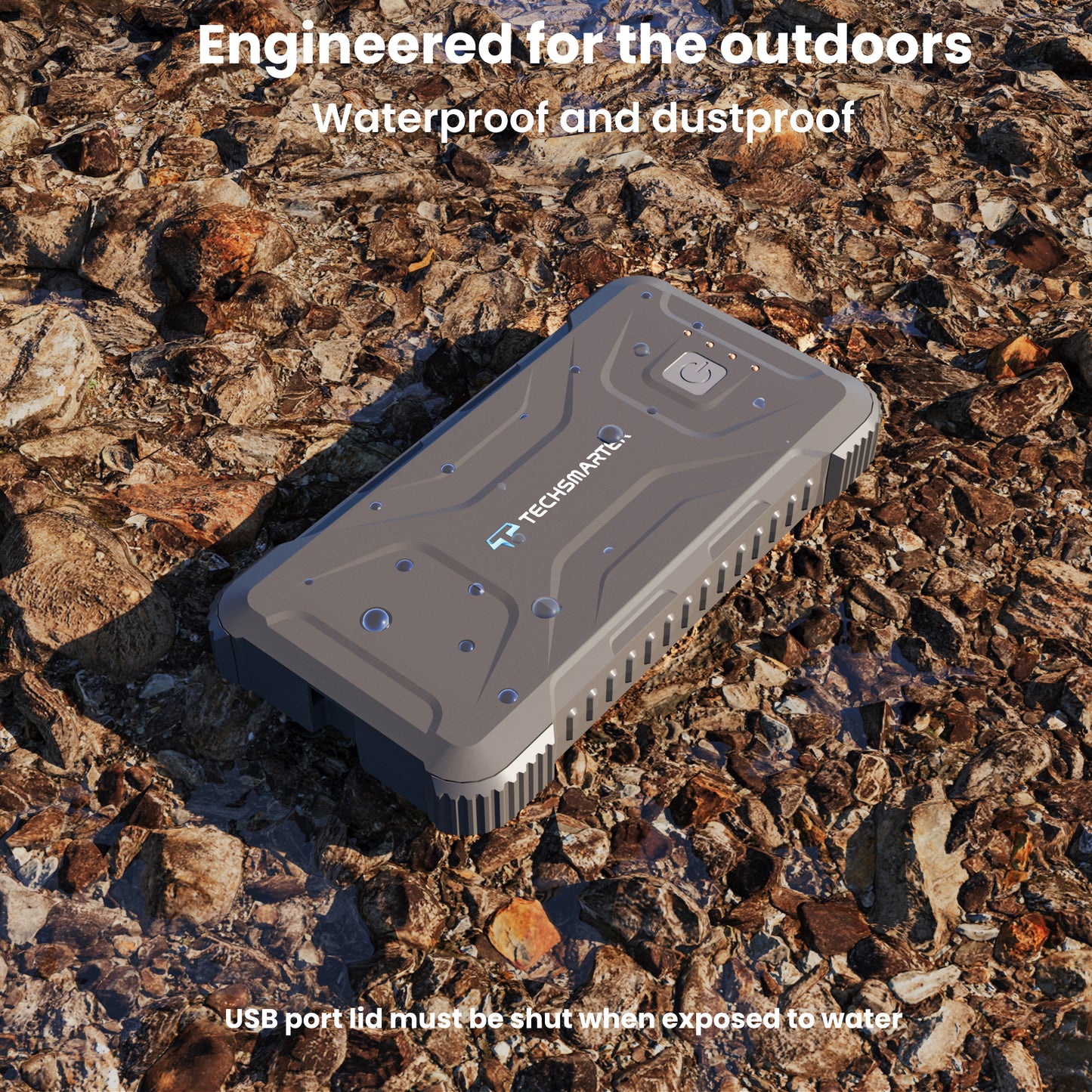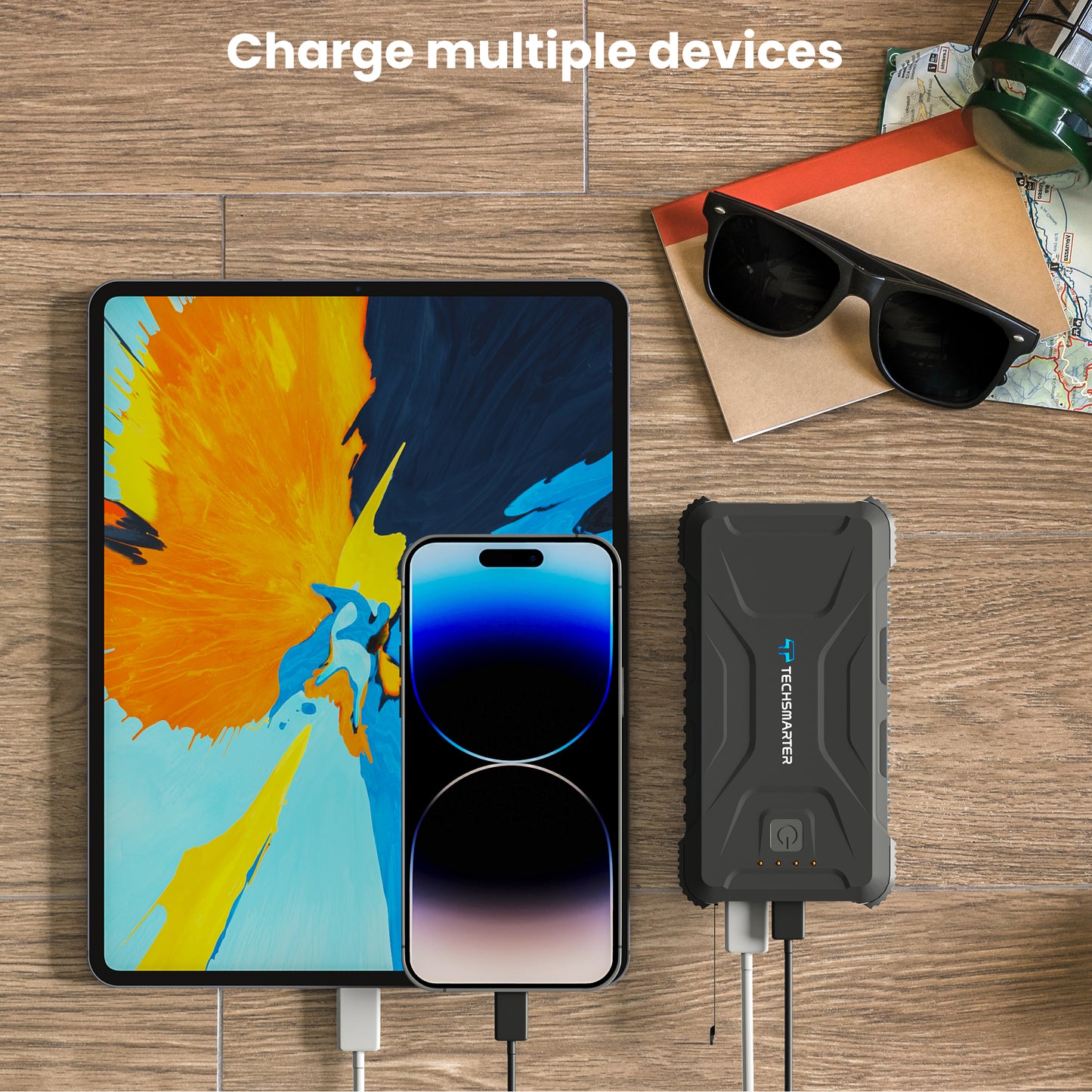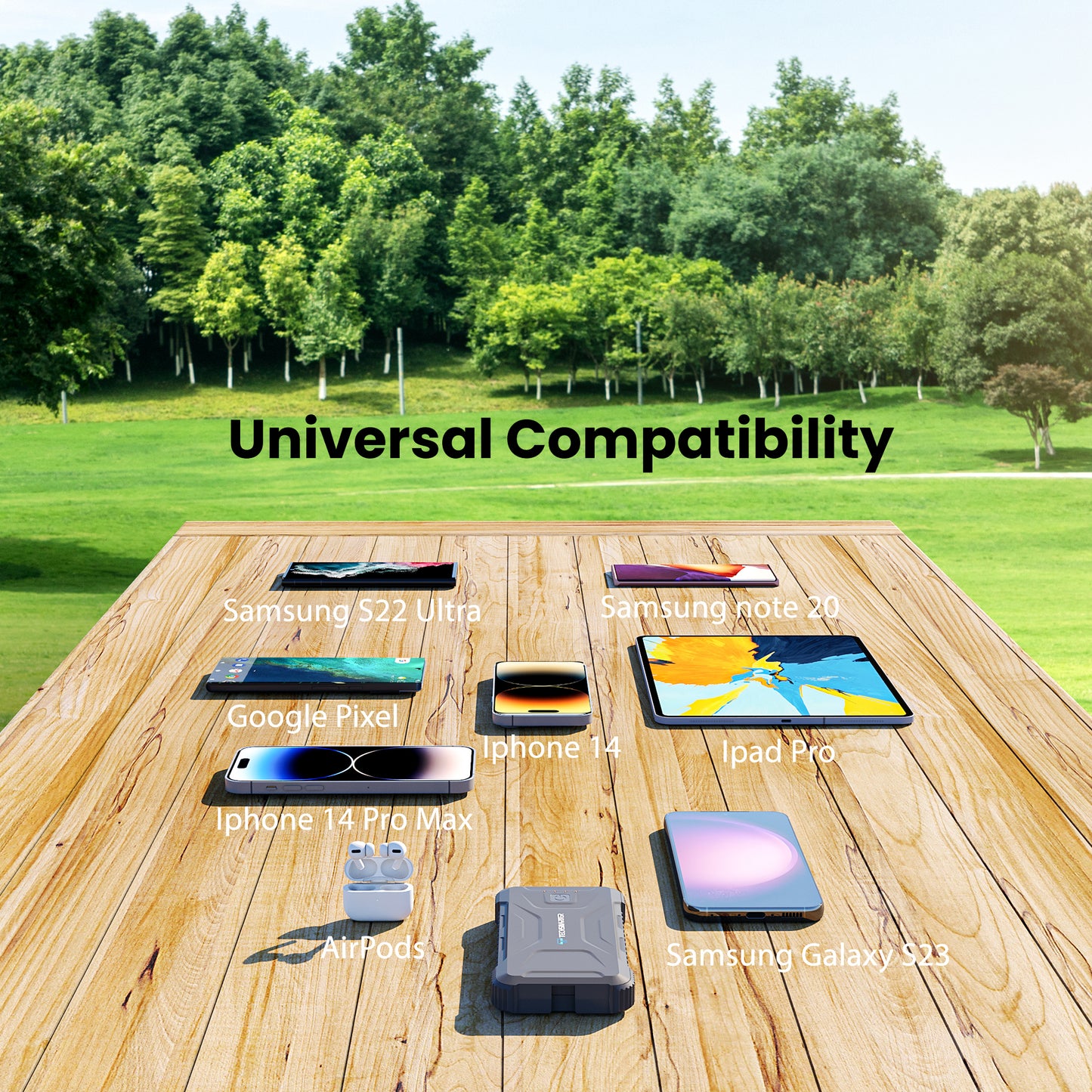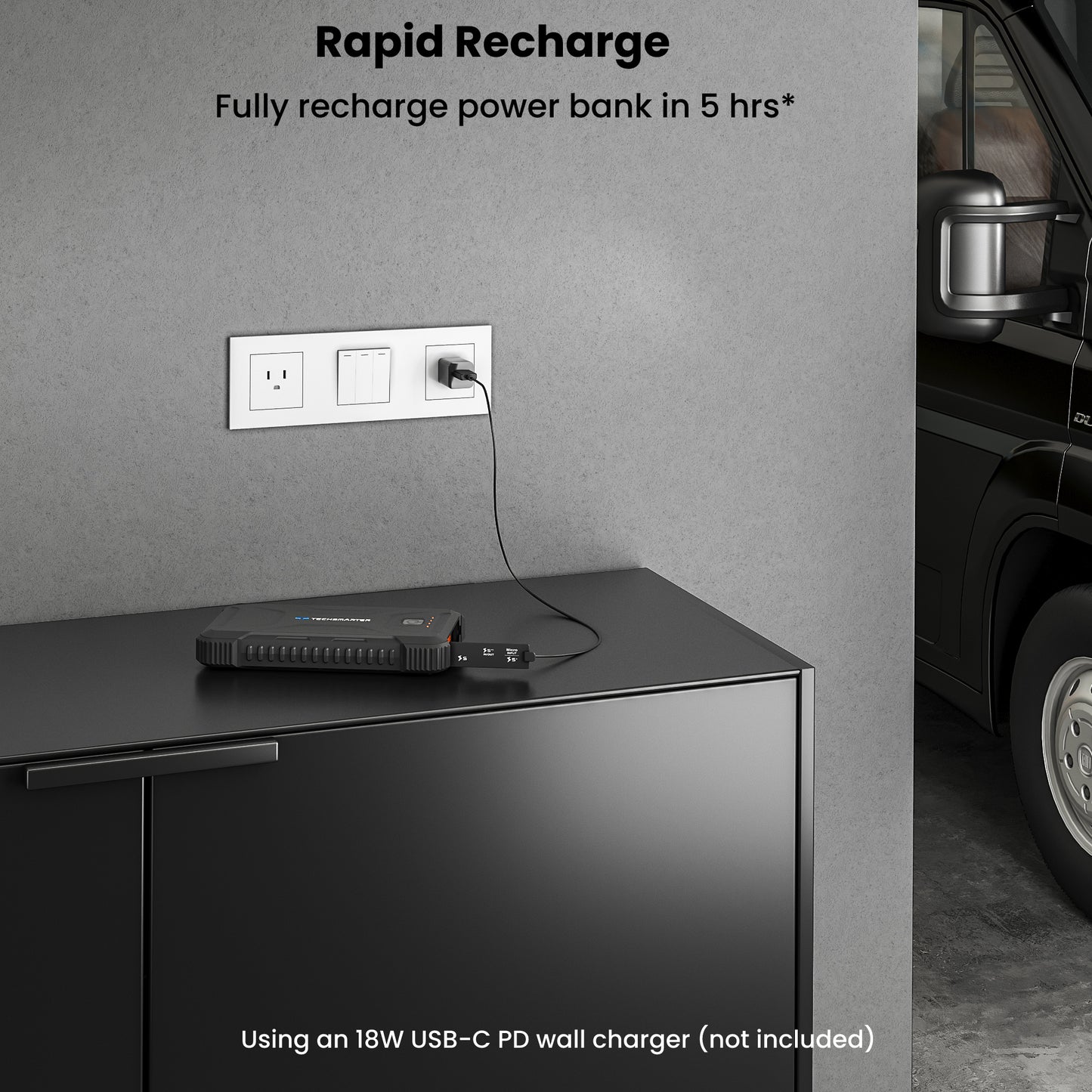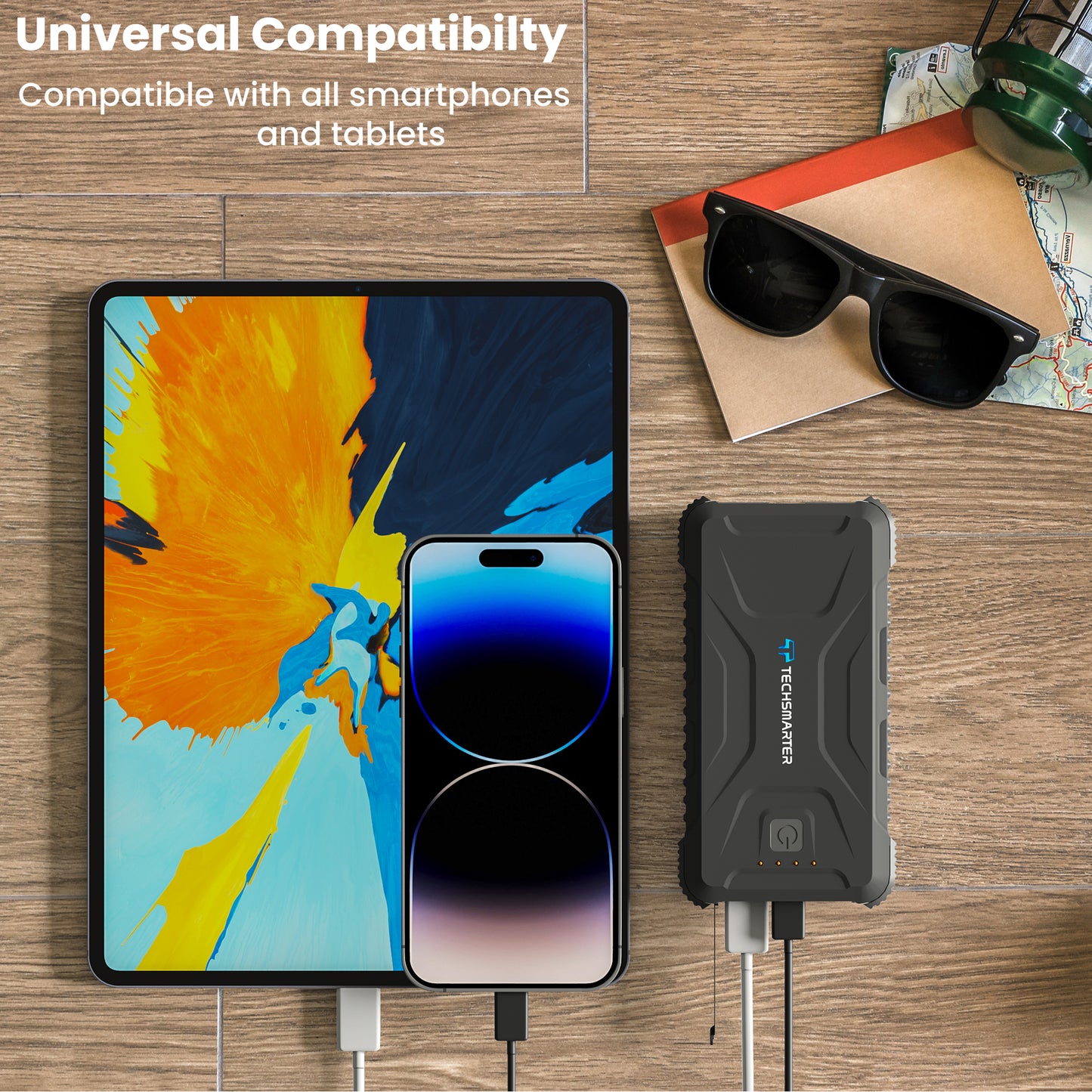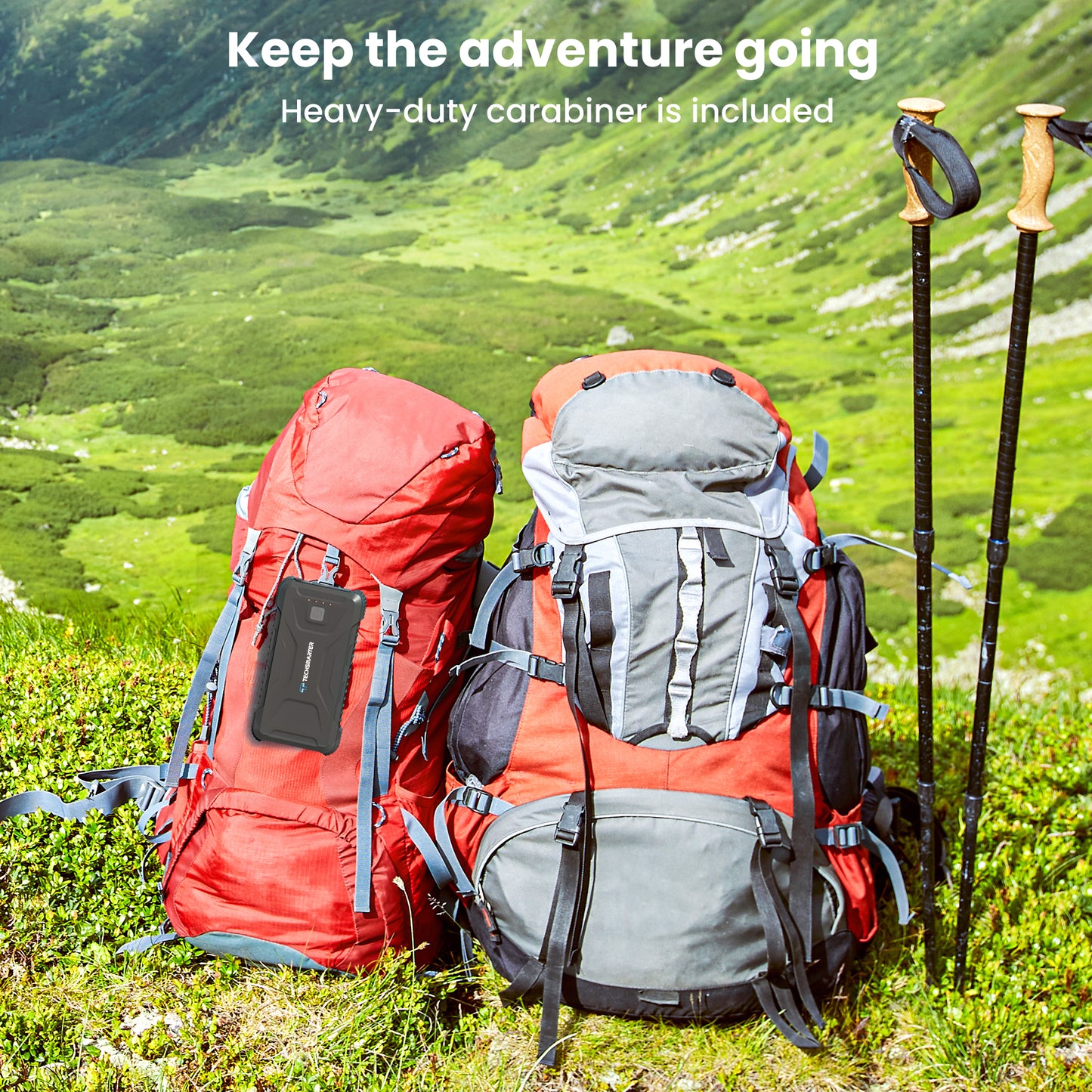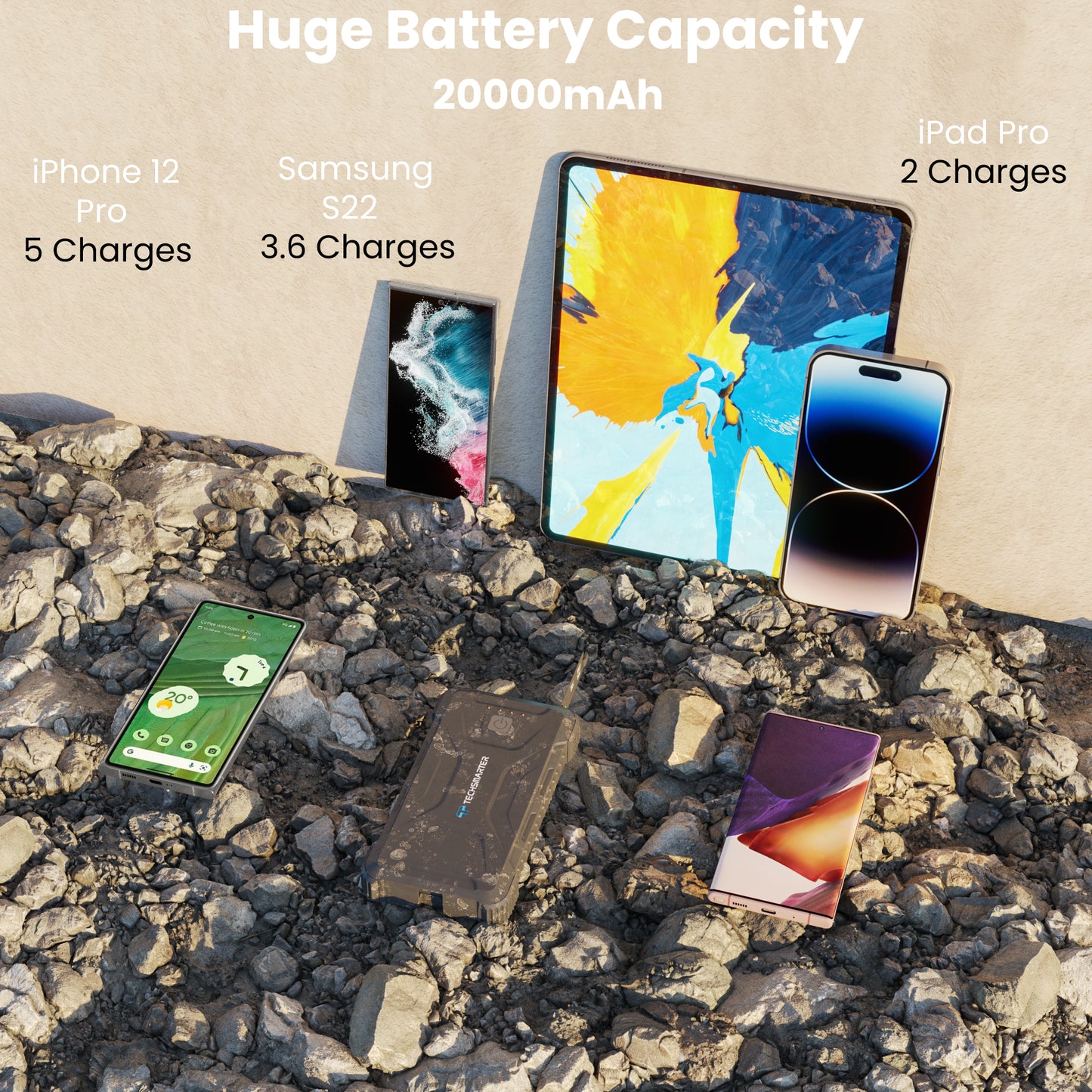 Description
Get ready for your next outdoor adventure with the TSBar Rugged 20000! This compact and powerful charger is designed to withstand the toughest conditions, making it the perfect choice for outdoor enthusiasts, campers, and travelers.
The TSBar Rugged 20000 features a waterproof, rugged, and durable design that can withstand water, shock, dust, and more. It's also water resistant, so you can take it with you on all your aquatic adventures without worrying about it getting damaged.
But it isn't just built to withstand the elements – it's also packed with power. The 20000mAh high-capacity battery can charge your devices multiple times before needing to be recharged itself, and the 18W USB-C PD port allows for fast charging of your devices on the go.
And when you need a little extra light on your adventures, the TSBar Rugged 20000 has got you covered with its built-in four mode flashlight. Whether you need a bright beam for hiking trails or a softer light for reading in your tent, this flashlight has you covered.
With its reliable, fast-charging capabilities and durable design, it's the perfect companion for all your outdoor activities.
Multiple USB ports - This power bank is designed to charge up to three devices at the same time. It is equipped with one 18W USB-C PD port, one 18W USB-A port, and one 12W USB-A ports, ensuring that you have the right port for any device.

Fast Charging For All - Engineered with TS+ Fast Charging USB and USB-C PD ports, which allow for 4x faster charging of the latest iPhones, Galaxies, and Androids compared to conventional chargers.

Ultra high 20,000mAh capacity, capable of charging most smartphones up to 9 times or tablets up to 4 times

Compatible with a all USB/USB-C smartphones, Tablets, Small USB electronics (see compatibility below)

LED flashlight with four modes - high torch, low, strobe, and SOS - that provides up to 120 hours of use. It is a versatile companion for camping, traveling, hiking, and other outdoor activities

Safe to use, with advanced protection systems in place to prevent overcharging and overheating. And a convenient LED display shows battery level and charging status

TSA Compliant: The TSBar Rugged 20000 is compact and portable, making it easy to take with you wherever you go. You can carry it in your hand or in your carry-on luggage when boarding a commercial flight, and it is also approved for use at TSA checkpoints.

Included in the package are the TSBar Rugged 20000, a heavy-duty carabiner, a 4-in-1 USB-C cable, a 1-year warranty, and TurboGuard safety protection.
Compatibility and Specifications:
Compatibility:
Smartphones: Compatible with all smartphones such as Apple iPhone 14, 13, 12, 11, XS, XR, X, 8, 7, 6, 5, Samsung Galaxy S22, S21, S20, S10, S9, S8, S7, S6, S5 Note 4, 5, 8 , 9 10, Samsung Galaxy A series, M series & F Series, LG ThinQ G7, G6, G5, G4, G3, V20, V30+, Androids, Motorola, Nokia, Blackberry, HTC, Huawei, Sony, Nokia, Pixel, Airpods Pro and More

Tablets: Compatible with all tablets such as Apple iPad 4, 3, 2, Air, Mini, Pro, Air, Samsung Tab, Google Pixel C and more

Gaming: Nintendo Switch
Three Output Ports:
18W TS+ Fast Charge USB Ports (5-6V/3A, 6-9V/2A, 9.2-12V/1.5A)

18W Power Delivery USB-C Port (5-6V/3A, 6-9V/2A, 9.2-12V/1.5A)

12W USB Port (5V=2.4A)
Two Input Ports:
18W Micro USB Input: 5V/2A, 9V/2A

18W Power Delivery USB-C input: 5-6V/3A, 6-9V/2A, 9.2-12V/1.5A
Dimensions:  6.4 x 3.38 x 0.95 inches
Weight: 15.3 oz
Shipping
All orders placed by 1pm on Monday through Friday will ship same day. Orders placed on Saturday, Sunday or during national holidays will ship the next business day.
Shipping Fee
Standard shipping within the US is free for all orders.
30 Day Money-Back Guarantee for Any Reason
You may return your product for a full refund for any reason within 30 days of purchase. 
Warranty
All our products are backed by a one-year warranty.

Within the first 12 months from the date of purchase, we handle all quality-related issues by providing a replacement.

Upon receiving your warranty request, we will email you a mailing label to return the defective unit. A replacement will be dispatched once we receive the defective unit.

Please don't hesitate to contact us at Support@techsmarterusa.com to initiate the warranty process or if you have any questions about this policy.